It feels like you are walking on the moon, this flat, endless, dusty, greyish-beige crust. Even Neil Armstrong would have thought so. But no, this is the Makgadikgadi Pans in Botswana, and here are five reasons why you should include this destination in your itinerary:
1. The world's largest salt pan landscape
The Makgadikgadi Pans landscape is the world's largest salt pan landscape. It covers an area of over 30,000 km² and is technically not a single pan, but consists of many pans – the largest of which are Sua, Nwetwe and Nxai pans. The Makgadikgadi Pans were once part of the old Makgadikgadi lake bed – an ancient lake that is believed to have covered as much as 80,000 km², and started drying up almost 10,000 years ago, leaving huge salt-encrusted pans behind.
The Makgadikgadi Pans National Park incorporates the western end of Ntwetwe. At its northern boundary, it meets the Nxai Pan National Park, separated only by the Nata-Maun Road.
If you drive from the eastern to the western side of the Makgadikgadi Pans you will notice that the surroundings completely change from a dense dry woodland forest to a drier, flatter landscape – where the salt pans are. Some camps will take you camping on the pans at night, once the pans have dried up after the rains – an amazing experience! At night this vast landscape feels like a space auditorium, with 360 degree views of both the pans and that amazing starscape.
2. The longest mammal migration in the world
If you visit the pans in the dry season, when the landscape is arid and the land is as dry as a bone, you might not believe that it hosts Africa's longest zebra migration. During the wet season (around January to March) the pans transform into lush, nutritious wetlands, which attract zebras, wildebeests, elephants and other herbivores. If you want to witness this spectacle, the Makgadikgadi Pans are the best place to be. Read more about Botswana's greatest secret here.
3. The flamingo migration
According to research, the salt pans (the Sua Pan in particular) are considered one of the most important breeding sites in southern Africa for lesser flamingos (Phoeniconaias minor) and greater flamingos (Phoenicopterus ruber roseus).
The first satellite tracking of flamingos in southern Africa revealed that these vibrant pink birds migrate from many places in southern Africa to Makgadikgadi to breed. This remote African wilderness provides essential feeding sites and proves once again how important the conservation of wetlands is. Besides flamingos, the wet season in Makgadikgadi Pans also brings a plethora of other migratory waterfowl such as pelicans, ducks, geese and many more, turning it to a real paradise for any bird lover.
4. Meerkats galore
Makgadikgadi's meerkats are definitely one of the highlights of this magical place. Why? Because meerkats are simply awesome! They are charming little creatures and spending time with them is always a privilege. Have a look at this photoseries of adorable three-week-old meerkats.
5. Majestic baobabs
Adjoining the Makgadikgadi Pans National Park on its northern border is Nxai Pan National Park, a fascinating area home to millennia-old baobab trees. The park makes up part of the great Makgadikgadi landscape, and hosts several larger pans – Nxai Pan, Kgama-Kgama Pan and Kudiakam Pan.
Located approximately 30 km from the park's entrance, in the Kudiakam Pan, you will find the famous Baines' Baobabs – a national monument named after the famous painter and explorer Thomas Baines (a member of the Livingstone Expedition), who painted this unusual group of seven baobab trees on the 22nd May 1862.
In the Sua Pan you will find Kubu Island, an isolated granite outcrop famous for its white rocks crowned with gigantic baobab trees and featuring prehistoric artefacts and stone ruins.
In the Ntwetwe Pan you will find the remains of Chapman's Baobab, which, until it fell to the ground on 7 January 2016, was one of the three largest trees in Africa and a national monument of Botswana. Chapman's Baobab was visited by many a tourist, and was historically used as a landmark for travellers after being named after the early explorer and pioneer James Chapman who travelled through the area with Thomas Baines in 1861.
ACCOMMODATION RECOMMENDATIONS
Meno a Kwena, a hidden gem of a camp perched on a rocky clifftop above the Boteti River, near the Makgadikgadi Pans National Park. Read about it in the story Botswana's Boteti.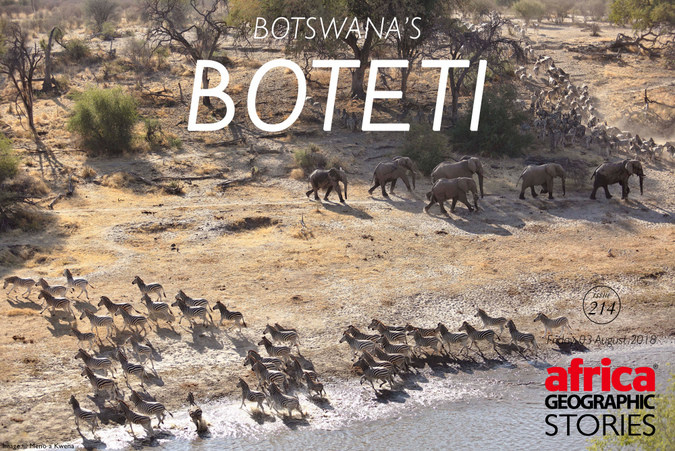 TRAVEL WITH AFRICA GEOGRAPHIC
Travel in Africa is about knowing when and where to go, and with whom. A few weeks too early / late and a few kilometres off course and you could miss the greatest show on Earth. And wouldn't that be a pity? Contact an Africa Geographic safari consultant to plan your dream vacation.
FLY WITH AIRLINK
The Africa Geographic team flies with Airlink, who offer multi-destination flight options across southern Africa and a convenient Lodge Link program, direct to popular lodges in the greater Kruger National Park and beyond.